The expulsion of a Canadian diplomat marks the initial step in an escalating dispute that has incited consternation among officials in both Ottawa and New Delhi. The latter has dismissed the allegations as "absurd and driven by ulterior motives."
OTTAWA — Prime Minister Justin Trudeau has sought to clarify that Canada's intention is not to "provoke" India with accusations of its government's involvement in the June killing of B.C. Sikh leader Hardeep Singh Nijjar. However, the potential ramifications of this allegation have taken center stage, with limited international and domestic political support for Canada's approach.
The Indian government swiftly dismissed the claim as "absurd," causing shockwaves around the world and further straining Ottawa's relations with the emerging economic power house.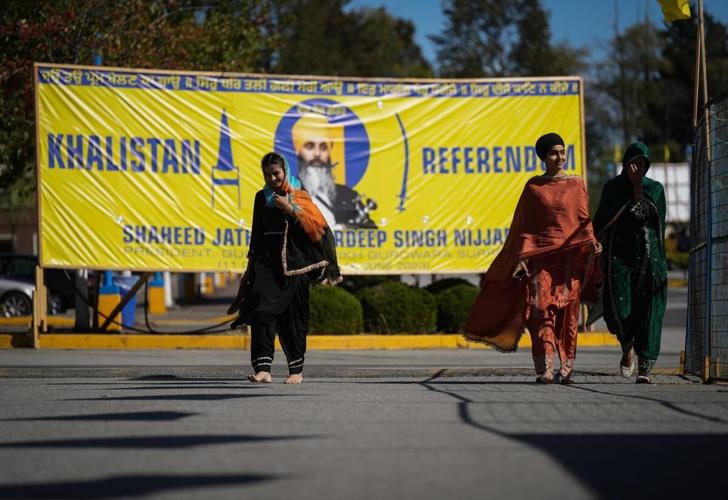 Furthermore, in response to Trudeau's revelation that "credible allegations" of Indian government involvement in Nijjar's shooting death exist, India expelled a Canadian diplomat on Tuesday. Additionally, India's top intelligence officer in Canada is being expelled in retaliation for these allegations.
In a diplomatic exchange reminiscent of earlier tensions between Canada and China, a retaliatory response has unfolded in the ongoing dispute with India. This latest escalation harkens back to a similar situation earlier this year when China was revealed to be targeting a Canadian member of Parliament. However, unlike the broad support Canada received from Western allies in that case, the latest deterioration of Canada-India relations has not garnered immediate widespread backing.
While the United States, Australia, and the United Kingdom have expressed their concerns, they have stopped short of openly endorsing Canada's call for the Indian government to divulge any information it possesses regarding the killing of Hardeep Singh Nijar.
US National Security Council spokesperson Adrienne Watson issued a statement to reporters, emphasizing the importance of Canada's ongoing investigation and the imperative of bringing the perpetrators to justice.
Suspicions of Indian involvement in Nijar's murder have circulated since the tragic incident in Surrey, B.C.in June. The potential release of evidence supporting this theory prompted Prime Minister Justin Trudeau to make a surprising revelation on the floor of the House of Commons on Monday.
Trudeau revealed that he had been awaiting the opportunity to discuss the matter with both allies and Indian Prime Minister Narendra Modi during the G20 summit in New Delhi earlier this month before making the issue public.
"We aimed to ensure a robust foundation in comprehending the situation through analysis and, indeed, factual understanding," Prime Minister Trudeau conveyed.
He added, "However, it's important to clarify that we are not seeking to provoke or escalate matters. Our intention is simply to present the facts as we have come to understand them. We are eager to collaborate with the government of India to bring clarity to the situation and ensure a proper process."
This approach, nevertheless, brings to mind the controversy surrounding allegations of Chinese interference in Canadian politics. During that period, Trudeau and his governing Liberals faced criticism from political opponents for possessing intelligence that hinted at MPs being targeted but not acting upon that information.
The matter escalated into a prolonged political dispute and, ultimately, led to the initiation of a public inquiry into foreign interference earlier this week.
Early indications suggest that the recent accusation against India may ignite another political storm for the government. Conservative Leader Pierre Poilievre expressed his reservations, stating that there isn't sufficient information to pass judgment on whether Trudeau's decision to make the matter public was warranted or if further action against India is warranted.
The potential consequences of the allegation not being true are a cause for concern, as pointed out by Conservative Leader Pierre Poilievre. However, he did not elaborate on the specifics of this risk.
NDP Leader Jagmeet Singh has emphasized the need for thorough scrutiny of the allegation, emphasizing that this will come through police investigations and the forthcoming public inquiry. Singh has also taken the initiative to write to the judge overseeing the public inquiry, urging her to explicitly include Indian interference in her work. The inquiry was already slated to address interference by China, Russia, and "other foreign states."
Hardeep Singh Nijjar, aged 45, tragically lost his life on June 18 while seated in his truck outside the Guru Nanak Sikh Gurdwara in Surrey, B.C., where he served as temple president.
Last month, the police disclosed that they were seeking three individuals in connection with the killing. Two of them were described as "heavier-set males wearing face coverings," while the third was identified as the driver of a getaway car, a silver 2008 Toyota Camry.
Nijjar had been a prominent advocate for the establishment of Khalistan, an independent Sikh homeland in India. He had been involved in organizing a referendum among Sikhs living abroad.
Indian authorities considered him a fugitive who held a leadership position with the Khalistan Tiger Force, a Sikh militant group designated as a terrorist organization by the Indian government in February.
For years, they alleged that Nijjar was hiding in Canada, where he had resided since leaving India in the 1990s.
In the days leading up to his tragic death, Nijjar had expressed concerns for his safety to close associates and a journalist. Following his killing, hundreds of people gathered outside the Indian consulate in Vancouver, denouncing his death as a poignant example of foreign interference.
Even before Prime Minister Trudeau's revelation on Monday, Canada's relations with India were strained. Vivek Dehejia, an associate professor of economics at Carleton University's Canada-India Centre, pointed to Trudeau's 2018 trip to India, during which an individual convicted of attempting to assassinate an Indian cabinet minister appeared alongside the prime minister at an exclusive event in Mumbai, causing significant embarrassment.
Dehejia highlighted that trade negotiations between the two nations had already been suspended, and Trudeau's recent allegation would likely further damage their relationship.
Bessma Momami, a political science professor at the University of Waterloo specializing in international affairs, described the revelation of India's potential involvement as being "beneath the level of a fellow liberal democracy." However, she noted the complexities in global affairs, where Western countries are seeking to reduce economic ties with China and forge stronger trade links with like-minded liberal democracies.
India's emerging role as an economic powerhouse with a vast population may pose a challenge for some of Canada's allies when it comes to denouncing India for its alleged role in Nijjar's killing.
In Ottawa, members of Canada's Sikh and Muslim communities raised concerns about the safety of other Sikhs facing threats and called on the federal government to take more robust measures to protect them. This includes an immediate cessation of intelligence sharing with India.
Mukhbir Singh, a board member for the World Sikh Organization of Canada, urged Ottawa to expand the terms of the public inquiry to include an assessment of Canada's capacity to safeguard communities from foreign threats for any reason, not just election interference.
Stephen Brown, CEO of the National Council of Canadian Muslims, urged politicians to refrain from partisan attacks on the issue. He emphasized the importance of unity among Canadian politicians to understand how the situation unfolded and, more importantly, to prevent such incidents from recurring, ensuring that people do not have to fear for their safety when leaving places of worship in Canada.